Kenny Irwin Memorial Page
Born August 5, 1969
Died July 7, 2000
These pictures are scanned from some of my favorite Kenny Irwin trading cards. The are not in order with the text.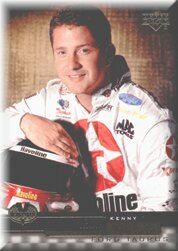 Kenny began racing Quarter Midgets at the age of 6. He began his professional racing career in sports cars before gravitating to USAC open-wheel competition, where he drove in Sprint, Midget and Coors Light Silver Bullet Series events for several years. In 1993 he claimed the Stoops Freightliner/USAC Sprint Car Series Rookie of the Year award after logging seven victories in a single season.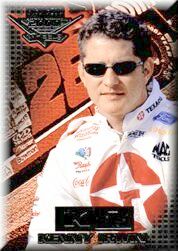 In 1994 Kenny earned the USAC Silver Crown Series Rookie of the Year award with six wins. He participated in Silver Crown for four seasons. 1996 was a very busy year for Kenny. He captured the USAC National Midget Series Championship while finishing second in the Silver Crown final point standings and making his NASCAR Craftsman Truck Series debut near the end of the season. Kenny earned his first NASCAR pole in the Craftsman Truck Series in his 2nd start at Richmond International Raceway.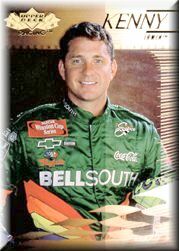 Kenny drove the full 1997 season in the Craftsman Truck Series. His first win came in March at the Metro-Dade Homestead Motorsports Complex. His second win came in June at the Texas Motor Speedway. Kenny was named the 1997 NASCAR Craftsman Truck Series Cintas Rookie of the Year after posting two wins, seven top-five and 10 top-10 finishes. He also finished 10th in the series point standings.
1997 also saw Kenny make four Winston Cup starts in a car owned by David Blair. He logged his first Winston Cup top-10 finish in the Exide Batteries 400 at Richmond International Raceway.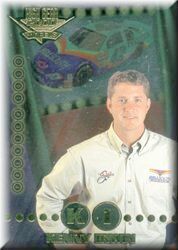 1998 Kenny stepped into the #28 Texaco/Havoline Robert Yates Ford. In August his 4th place qualifying effort made him the highest starting rookie in the history of the Brickyard 400. He captured his 1st Winston Cup pole position in the season finale at Atlanta Motor Speedway. Kenny was named the 1998 Winston Cup Rookie of the Year with nine top-10 qualifying efforts, one top-five andfour top-10 finishes. He became the first rookie to top $1 million in earnings in his first full season.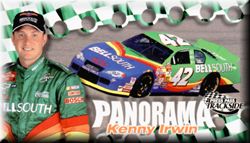 1999, his 2nd Winston Cup season with the #28 team, started off with a career best finish of 3rd in the Daytona 500. For the season he earned two poles, two top-five and six top-ten finishes.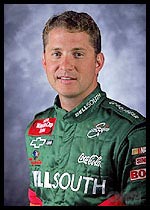 The 2000 season took Kenny to the #42 Felix Sabates BellSouth team. His plans were to run the full Cup schedule while also competing in 15 NASCAR Busch Series events behind the wheel of the #42 BellSouth Mobility/Ericsson Chevy. A promising career and young life came to an abrupt end on July 7, 2000. In the opening moments of the initial NASCAR Winston Cup Series practice for the thatlook.com 300 at New Hampshire International Speedway, a stuck throttle sent Kenny's car into the turn three wall at nearly full speed. The accident occured in virtually the same spot as Adam Petty's crash in May. Kenny died of multiple injuries at nearby Concord Hospital.

Kenny Irwin's NASCAR Career Stats
Craftsman Truck Series
Top
Top
Year
Starts
Wins
5's
10's
Money
1996
5
0
1
1
$29,525
1997
26
2
7
10
$302,870
Total
31
2
8
11
$332,395
Busch Grand National Series
Top
Top
Year
Starts
Wins
5's
10's
Money
2000
9
0
0
2
$112,585
Winston Cup Series
Top
Top
Year
Starts
Wins
5's
10's
Money
1997
4
0
0
1
$71,730
1998
32
0
1
4
$1,459,867
1999
34
0
2
6
$1,979,524
2000
17
0
1
1
$886,370
Total
87
0
4
12
$4,397,491
Kenny Irwin will be missed by the entire NASCAR community.
Questions or comments about this page or my site - Click the mail box to email me.