Bobby Labonte
2000 NASCAR Winston Cup Champion
2000 Driver of the Year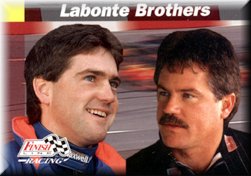 Bobby Labonte is the younger brother of two time Winston Cup Champion Terry Labonte. He was born on May 8, 1964. He married his wife Donna on March 29, 1991. He has two children: Richard Tyler born April 18, 1994 and Madison Elizabeth born January 15, 1998.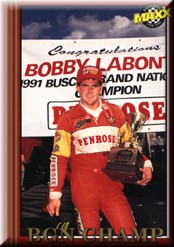 Bobby began racing quarter-midgets in Texas in 1969. He graduated to go-karts in 1978. He ran Late Model Stocks where he won a championship at Caraway Speedway in 1987. He also ran Late Model Sportsman. His NASCAR Busch Grand National debut came in 1990. In 1991 he won the BGN Championship in the #44 car owned by his Father. He almost repeated in 1992 - but - lost to Joe Nemechek by only 3 points!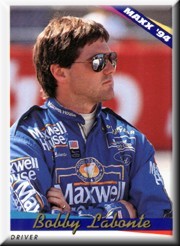 In 1993 Bobby made the move to Winston Cup. He joined Bill Davis Racing and the #22 Maxwell House team. In his first year, he qualified for all 30 races - finishing 19th in the final points standings. He won his 1st pole position in the September race at Richmond. His best finishes were 7th at Michigan in August and at Dover in September. He was 2nd in the Rookie of the Year standings to Jeff Gordon.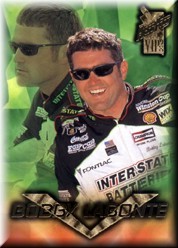 Though not directly related to Winston Cup - in 1994 Bobby earned another 1st. He was the 1st Cup driver to own a championship Busch team. David Green drove Bobby Labonte owned Chevrolets to win the 1994 Busch Grand National Championship.
The 1994 injuries to Ernie Irvan at Michigan Speedway set up a chain of events that took Bobby Labonte from the #22 to the #18 Joe Gibbs Interstate Battery Pontiac for the 1995 season. Dale Jarrett vacated the #18 to be the 1995 replacement driver in Ernie's #28 Texaco/Havoline ride. The rest is history. When Ernie returned to the #28 in late 1995 Robert Yates started the #88 team for Dale. Bobby started his steady climb to the Championship with this move.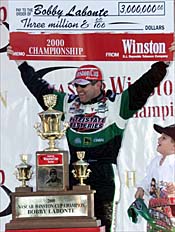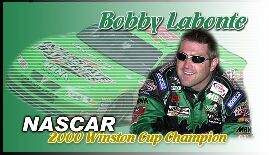 HE DID IT! In the Pennzoil 400 at Homestead-Miami Speedway Bobby Labonte clinched the 2000 NASCAR Winston Cup Championship. Bobby and Terry are now the first brothers to win the championship. Bobby is also the first Busch Grand National Champion to win a Winston Cup championship. In 34 races he has an impressive 7.44 average finish and has completed all but 9 laps for the season. The next best record for laps completed goes all the way back to Mark Martin in 1990 when he completed all but 84. Way to go Bobby!!!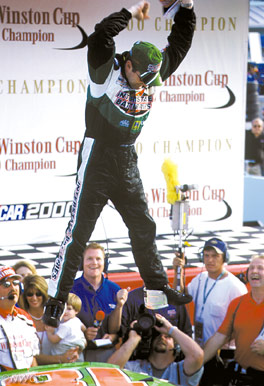 On 3 December 2000 Bobby was selected DRIVER OF THE YEAR for all American Motorsports.
Bobby beat out other drivers like:
World of Outlaws Steve Kinser
NHRA Funny Car drag racer John Force
CART's Juan Montoya
CART'S Gil de Ferran
Bobby received seven votes from a panel of 16 motorsports media members. Bobby also carried the fan vote. While Bobby didn't win a quarterly vote -those went to Mark Martin, Juan Montoya, Rusty Wallace and Tony Stewart-his consistency paid off with the DRIVER OF THE YEAR HONOR.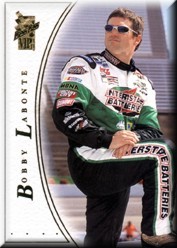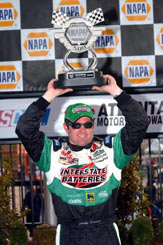 Bobby's 2001 season did not go as the defending Winston Cup Champion would have wished. He got off to a really bad start at Daytona - getting caught up in the "big one" and finishing 40th. Then team that seemed bulletproof in 2000 struggled with engine reliability early in the season. Finishes of 40th, 42nd, 39th, 36th, 33rd and 29th twice brought Bobby's average finish down to 14.08. But his 2 wins (The Pennsylvania 500 and The NAPA 500 at Atlanta) 9 Top 5's, 20 Top 10's and 1 pole netted him 6th in the points.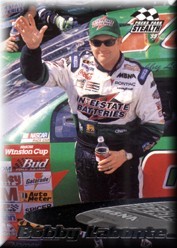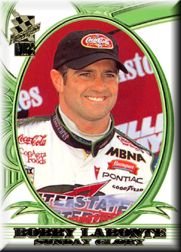 Was it just me or did Bobby have a lot of engine related failures in 2002? Between breaking and wrecking 2002 was a pretty poor year for Bobby. Just 1 win this season - the fewest since 1997. His 16th place points finish was his lowest since 1994. Just seemed like the team fell apart.
2003 will bring Bobby a new crew chief. His long time crew chief, Jimmy Makar, will move up to a management position. Michael "Fatback" McSwain will take over as head wrench for Bobby.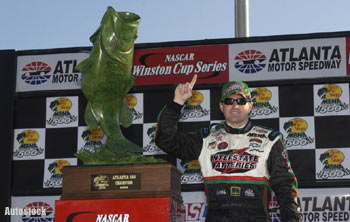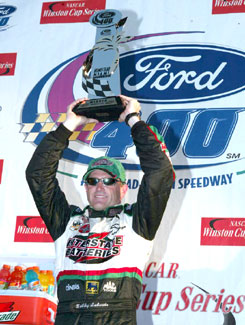 The Bobby Labonte and Michael "Fatback" McSwain teaming worked out real well in 2003. Bobby doubled his wins, Top 5's and Top 10's finishing 9th in the points. Pretty cool that his Miami-Homestead victory puts him in the record books as the last Winston Cup race winner. Both Bobby and Terry in the Top 10 for 2003 make me very happy.

The first half of 2004 looked pretty good. By race 15 he was 4th in the points. But the second half of 2004 was rough for Bobby. Somewhere along the way it was decided to fire Michael "Fatback" McSwain as crew chief and things went down hill from there. Bobby qualified, ran and finished poorly. He started losing spots and by race 25 he'd fallen to 12th and was out of the "Chase for the Championship". He fell as far down as 15th but rallied back to finish the year in 12th. But for the first season in tens years did not win a race. 2005 will bring a new permanent crew chief and I hope a much better showing.

OH my gosh - 2005 could not have been worse for poor Bobby! Things started off bad in the Daytona 500 when his motor blew on Lap 14. He had a few good runs but more often he wrecked or broke. Rumor surrounded him the second half of the season. He was leaving Joe Gibbs and going to about any car with an open seat. All were denied until early November when it was announced Bobby was indeed leaving the #18 Joe Gibbs Interstate Batteries car he'd piloted for eleven years. A few days later the news came that Bobby was moving to the #43 Richard Petty Cherrios/Betty Crocker Dodge. This will be a new start for Bobby.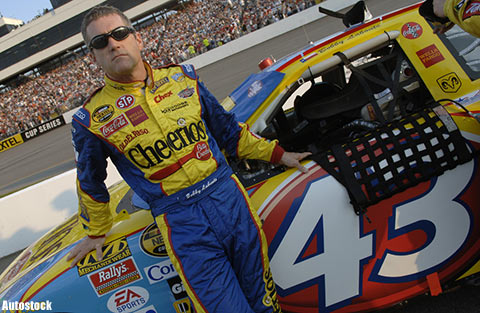 Lots of new things for Bobby in 2006. New team, new sponsor, new car number, new crew chief and so on! Bobby had some really great runs end with broken parts or accidents not of his doing. But he seems happier with the Petty team and I really hope for good things next year. 2007 brought a small improvement for Bobby. He has a few good runs. 2008 will bring Bobby another new crew chief and a new race shop closer to the Charlotte area.

Bobby Labonte's Nexel / Winston Cup Stats
Points
Top
Top
Year
Starts
Avg Fin
Finish
Wins
5's
10's
Money
1991
2
0
0
$8,350
1992
0
0
0
$0
1993
30
19th
0
0
6
$395,660
1994
31
21st
0
1
2
$550,305
1995
31
10th
3
7
14
$1,413,682
1996
31
17.35
11th
1
5
14
$1,475,196
1997
32
13.72
7th
1
9
18
$2,217,999
1998
33
14.21
6th
2
11
18
$2,620,370
1999
34
9.06
2nd
5
23
26
$3,456,341
2000
34
7.44
1st
4
19
24
$3,961,915
2001
36
14.08
6th
2
9
20
$4,139,850
2002
36
19.86
16th
1
5
7
$3,851,770
2003
36
16.14
8th
2
12
17
$4,745,260
2004
36
15.75
12th
0
5
11
$4,570,540
2005
36
22.69
24th
0
4
7
$4,627,400
2006
36
21.97
21st
0
3
8
$4,651,090
2007
36
21.97
18th
0
0
3
$4,586,960
510
21
113
195
$47,272,688
% of starts
4.12%
22.16%
38.24%
Questions or comments about this page or my site - Click the mail box to email me.