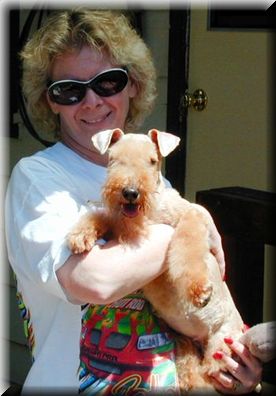 When our darling Annie died on 8/29/01 we were heartbroken. We called her breeder Bill Burns to tell him she was gone and he immediately offered us another dog. So on 9/1/01 we went to meet Ch St. Roques Easy Tempo, aka, ET.
ET's birthday is 11/13/93. She is a "red" Lakie. She is the mother of four litters of puppies. To the left is my first picture with her the day we picked her up.
ET will never replace Annie in our hearts. We'll just open another room in our hearts for her. She needed a family home and we needed a little dog to love.
Our hearts are one again filled with sadness as we had to put E.T. to sleep on June 20, 2009. For the past year, her back end had been getting weaker & weaker. We had a sling to help her walk and be able to squat to potty but it got to where she was really dragging her back legs when she tried to get around the house. She was falling a lot. So we made the awful decision to let her go. We took her to the vets and she was very calm. We held her and she went very quietly.
We miss her very much already but truly appreciate the years of joy she gave us. Her page will remain a permanent part of TeamTerrier.com!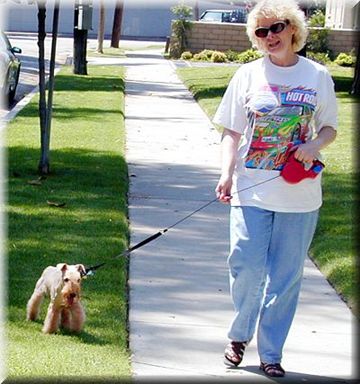 ET had spent most of her life doing shows and living in the kennel. I don't think she was very use to long walks. As you can see, our first few attempts didn't go to well. But once she got her confidence, she really started liking them.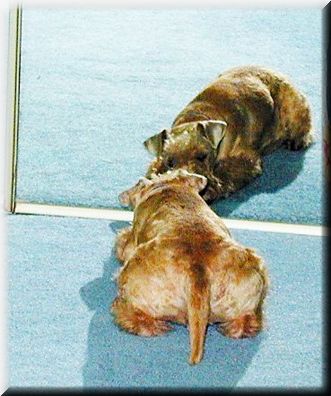 ET soon discovered the doggie that lives upstairs. She will often go up to the bedroom and watch that doggie who looks like her. She watches to make sure it doesn't sneak away.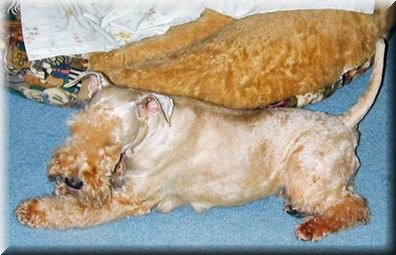 A long time ago we purchased this bed for Annie. She hated it and would never sleep in it. It looked like ET was going to shun it also. She'd lay next to it but refused to lay in it.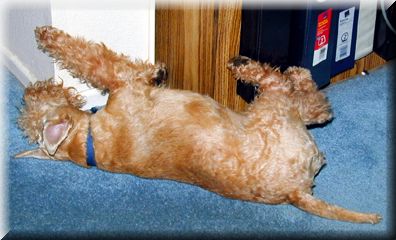 ET will just flop down anywhere she happens to be and go to sleep. I guess she likes it here.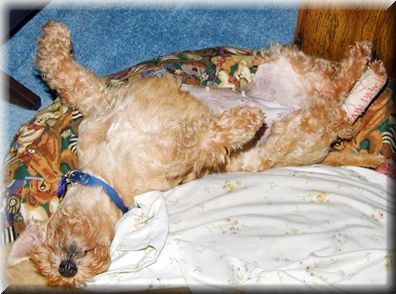 9/23/01 we had ET spayed. When we brought her home from the vet's, I lay her in the bed. After that, she decided it was pretty nice. Now it's her's and she sleeps in what she thinks are "comfy" positions.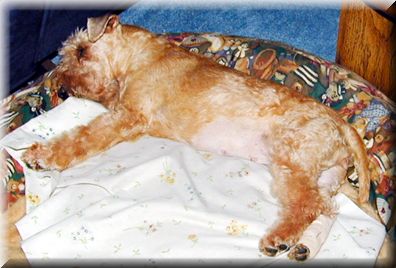 Doesn't she look like a sweet little angle?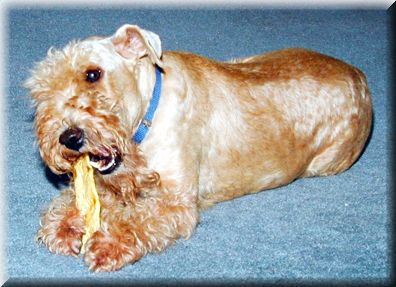 For a little entertainment and to help clean her teeth, we give ET a Chew-eez everyday. She likes to lick off all the basting then chew on it for a while.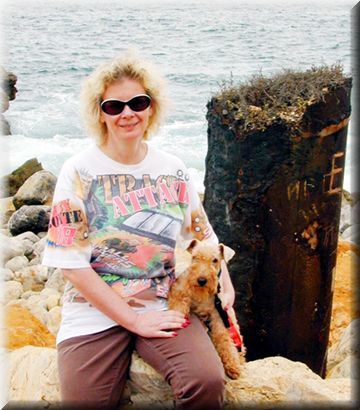 As ET started gaining more confidence, we started taking her on little rides and trips. Here we are down on the old Marineland site. There were so many interesting things to see and sniff. She had a grand time.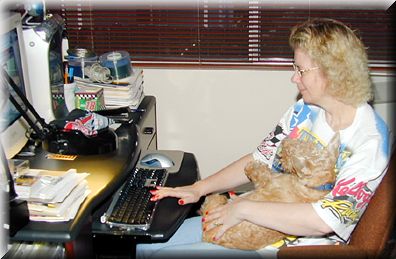 Annie was Michael's dog. ET is definitely my dog. No matter what I'm doing she wants to be with me. She loves to be held and cuddled - even if I'm trying to get some work done.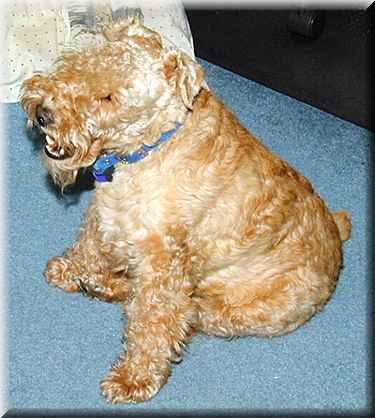 This picture was taken on Christmas Eve 2001
Everyone says I've gained weight - I think it's just cause my fur is getting thick.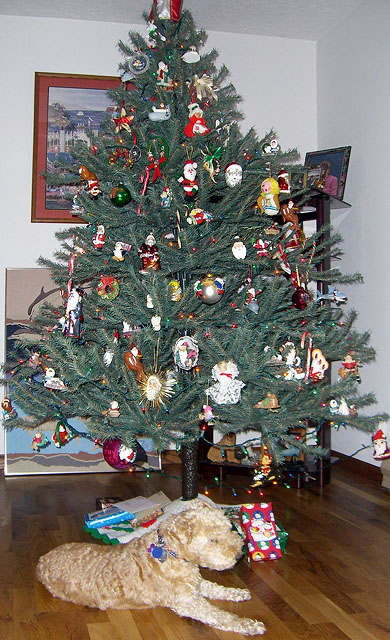 ET December 2009. This is the last picture we took of ET. I wish we had more! She was such a lovey little girl!.