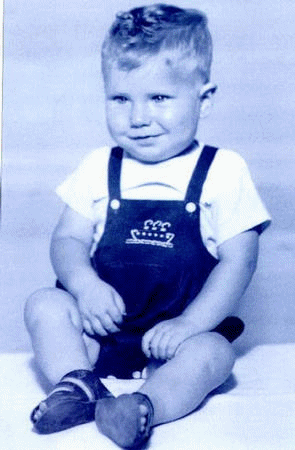 We started watching Winston Cup in the 80's whenever we could catch a race on network TV. Once we got cable we were watching every race and were totally hooked! Dale was immediately Michael's favorite driver. I never did a page for him because there are so many great Dale Earnhardt pages out there. Michael had made some Desktops of Dale's 1998 Daytona 500 and that seemed enough. Now I want to try to put together some pictures, stats and details of Dale Earnhardt's career to commemorate the life of a great driver, great champion and great man. Even if you weren't an Earnhardt fan, we'll all miss him terribly.


These are scans of some cards I like. They do not correspond to the text and aren't shown in any particular order.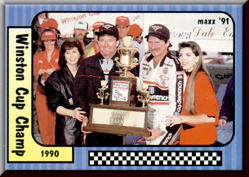 Dale Earnhardt began racing late model, six-cylinder stock cars at age 15. Occasionally he got the chance to race against his father. That was a real thrill for him. He began his career on asphalt in 1974 in a 5 year old Sportsman car he bought from Harry Gant. In May 1975 he entered his first Winston Cup race - The World 600 at Charlotte. In an Ed Negre owned Dodge he started 33rd and finished 22nd, one position ahead of Richard Childress.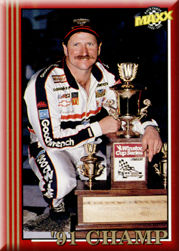 Through 1976 and 1977 Dale continued Sportsman racing while begging the occasional Winston Cup ride. Dale never won any track championships, he moved around too much. He just raced wherever he felt good about going. Dale ran the 1978 Dixie 500 in Atlanta for Ron Osterlund and finished 4th. He was asked, by Osterlund to drive the full Winston Cup season in 1979.
In 1979 Dale qualified for 27 of the 31 races. He got his first win in the seventh race of the season and only his sixteenth Winston Cup start in the Southeastern 500 at Bristol. He won Rookie of the Year and finished 7th in the points - one spot ahead of Richard Childress.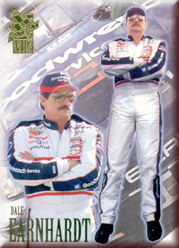 Dale continued driving for Osterlund in 1980, earning 5 wins, 19 top 5's, 24 top 10's and his 1st Winston Cup Championship. He skipped "the Sophomore Slump" but his junior year 1981 wasn't as lucky. He didn't win any races and 16 races into the season Osterlund sold the team to J. D. Stacy. From the start Earnhardt and Stacy did not get along. After just four races Earnhardt quit Stacy to join forces with Richard Childress. Richard had quit driving to try car ownership. They had moderate success but by the end of the season Richard knew he did not yet have the capability to field a championship caliber car. So for 1982 and 1983 Dale went to work driving the Bud Moore Ford.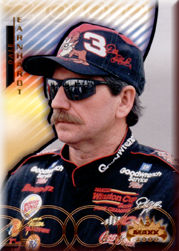 Earnhardt and Moore got along OK, but Dale never managed to build a comfortable relationship with Ford. In 1984 Dale and Richard teamed up again - and the rest as they say is history. Together they won six championships - three amazing sets of back-to-back titles! Any driver out there can tell you how hard it is to win one title let alone back-to-back titles. The only other drivers to accomplish the feat in the last two decades are Darrell Waltrip and Jeff Gordon.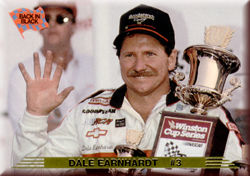 It's a sad irony that we lost Dale Earnhardt at the track that meant so much to him and all drivers. Where he won 10 consecutive twin 125's, and 12 in all! Where he won the Budweiser Shootout six times. Where he struggled for 20 years to win the Daytona 500. The same track where his very best friend, Neil Bonnett, lost his life. Daytona will never be the same.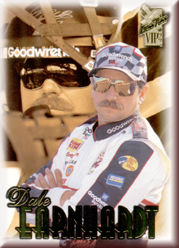 It doesn't matter if you were an Earnhardt fan or not - you cannot dispute the fact that he amassed some amazing statistics. In the 52 years of NASCAR Winston Cup racing to date, he is only the 2nd driver to win 7 championships. He is the only driver to win consecutive Rookie of the Year and Winston Cup titles. He stands 6th on the All Time Victory List with 76 wins. In his 22 full racing seasons he only finished outside the top 10 in points twice - both times he was 12th. His average points finish is 4.45! In April 2001 he would have matched then beaten Terry Labonte's consecutive start streak. He was "The Man"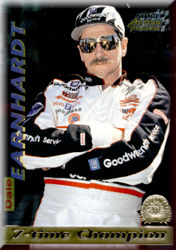 Among his accomplishments Dale was also the first car owner to win championships in two major NASCAR divisions. His son Dale Earnhardt, Jr., won back-to-back NASCAR Busch Series titles in 1998 and 1999. Ron Hornaday, Jr., won the NASCAR Craftsman Truck Series titles in 1996 and 1998. All three of his Winston Cup drivers have now won races. He would have been thrilled to pieces to see Michael Waltrip finally win his 1st race.

The 99 High Gear card below and on the right is a prized possession. I mailed the card to Dale's shop in December 1999 hoping he would autograph and return it. It was to be a surprise for Michael. It took about 8 months - but one day there it was. I was thrilled. Dale Earnhardt has long been Michael's hero and favorite driver. For Michael, racing will never be the same. It will be tough for him (like many others out there) to watch the races without Dale to root for.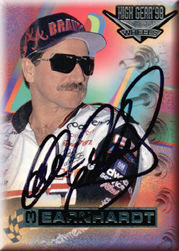 In Memory of Dale Earnhardt
We sit in anguish mourning
the loss of our friend.
It's so hard to handle sometimes,
and we wonder why Dale's life had to end.
No one can ever replace him,
he's truly one of a kind.
Dale will surely be missed now,
but he'll always be in our heart and on our mind.
He will forever be the greatest,
and his success will live on.
Dale was loved, hated, but respected
for he as a legend will stand alone.
The thought of Dale leaving
us is such a nightmare.
It seemed so unreal until Rockingham
when Dale Earnhardt wasn't there.
Written by: Chris Tedder Tedder80@aol.com

Dale Earnhardt Winston Cup Career Stats
Points
Top
Top
Year
Owner
Starts
Avg Fin
Finish
Wins
5's
10's
Money
1975
Ed Negre
1
- -
0
0
0
$1,925
1976
W. Ballard
1
0
0
0
$1,725
1796
Johnny Ray
1
- -
0
0
0
$1,360
1977
Henley Gray
1
- -
0
0
0
$1,375
1978
W. Cronkrite
4
0
0
1
$13,245
1978
Ron Osterlund
1
- -
0
1
1
$6,900
1979
Ron Osterlund
27
7th
1
11
17
$264,086
1980
Ron Osterlund
31
1st
5
19
24
$588,926
1981
Ron Osterlund
16
0
7
10
$220,085
1981
Jim Stacy
4
0
0
1
$34,300
1981
Richard Childress
11
7th
0
2
6
$92,728
1982
Bud Moore
30
12th
1
7
12
$375,325
1983
Bud Moore
30
8th
2
9
14
$446,272
1984
Richard Childress
30
4th
2
12
22
$616,788
1985
Richard Childress
28
8th
4
10
16
$546,596
1986
Richard Childress
29
1st
5
16
23
$1,783,880
1987
Richard Childress
29
1st
11
21
24
$2,099,243
1988
Richard Childress
29
3rd
3
13
19
$1,214,089
1989
Richard Childress
29
2nd
5
14
19
$1,435,730
1990
Richard Childress
29
1st
9
18
23
$3,083,056
1991
Richard Childress
29
1st
4
14
21
$2,396,685
1992
Richard Childress
29
12th
1
6
15
$915,463
1993
Richard Childress
30
1st
6
17
21
$3,353,789
1994
Richard Childress
31
1st
4
20
25
$3,300,733
1995
Richard Childress
31
2nd
5
19
23
$3,154,241
1996
Richard Childress
31
10.65
4th
2
13
17
$2,285,926
1997
Richard Childress
32
12.13
5th
0
7
16
$2,151,909
1998
Richard Childress
33
16.15
8th
1
5
13
$2,990,749
1999
Richard Childress
34
12.03
7th
3
7
21
$3,149,356
2000
Richard Childress
34
9.38
2nd
2
13
24
$3,701,390
2001
Richard Childress
1
12.00
- -
0
0
0
$194,111
Total
676
76
281
428
$40,421,986
Percentage
11.24%
41.57%
63.31%
Everyone knew Dale as the Intimidator. People who knew him personally also were well aware of his sense of humor and his love of the practical joke. If you believe in numbers, I think Dale is still playing with us. Just look at what's happened:
Dale died in his 23rd Daytona 500, the 3rd year after he won.
The skies cried at the Rock, the race 1 week after Dale left us, and Little "E" was nudged into the wall in the same turn as his father one week earlier. Was Dale protecting his son by not letting him race on such an emotional day? The next day was beautiful and Steve Park won the race in the DEI #1 car, in the 1st race after that tragic day.
In all 3 races after his death the 3rd lap was run under caution (the 4th race on - lap 3 has been green!).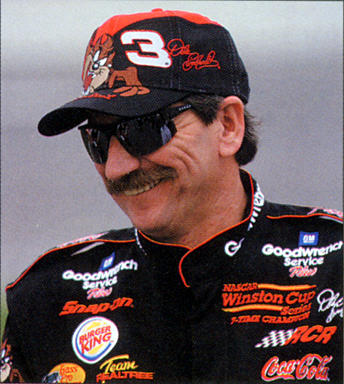 After Dale's death Richard Childress selected his Busch car driver, Kevin Harvick, as his stand-in for the rest of the 2001 season. Last season Kevin was 3rd in the Busch series points, with 3 wins. In his 3rd Winston Cup start Kevin won the Atlanta race. It was a photo finish with Jeff Gordon - a 3 time champion. The prior year Dale Earnhardt won the same race in a photo finish with Bobby Labonte. That win was only Richard Childress's 3rd win without Dale.
Dale Jarrett - a "Dale" has won 3 races this year.
Rusty, his friend, won the race in California on Dale's 50th birthday (4/29/01) he ran his victory lap with Dale's flag...then finished 3rd in Richmond a week later. Dale Jr. started 38th 3-8, on Dale's Birthday and finished 3rd.
I think Dale is up in heaven sitting with his racin' buddies sayin' "See how much fun ya can have messin' with 'em!"
The first race at Daytona after Dale's death was the Pepsi 400 on 7 July 2001. In a nail bitter of a finish, Little "E" won the race followed by Daytona 500 winner Michael Waltrip. The victory donuts were barely completed before the non-motor sports media starting talking "the fix" and "conspiracy". Little thought was given to the fact that for a "fix" to work 42 other drivers, teams, crews, owners and sponsors would have to agree - then keep quite about it FOREVER!
I found the picture and story below at http://insiderracing.tripod.com. I wrote Ron Felix and obtained his permission to reprint it here.

How The Pepsi 400 Was Fixed...Not What You Think!!
by Ron Felix July 12, 2001
If you were expecting to see what I might have to say about how Gary Nelson or Mike Helton or anyone else connected with NASCAR, rigged the Pepsi 400 Saturday night at Daytona, well then obviously you've come to the wrong place.
Even if NASCAR wanted to fix a race, can you imagine the amount of people that would have to be involved in the cover-up to pull it off and then keep their mouths shut the rest of their lives.
The Pepsi 400 was fixed, but not like the conspiracy theorist are saying.
When Dale Earnhardt joined his friend Neil Bonnett on February 18th of this year, Bonnett met him at the pearly gates. Bonnett had the run of the place but without Dale, he was getting bored. Yes, he occasionally hung out with the likes of J.D. McDuffie, Davey Allison, Kenny Irwin, Adam Petty, Tony Roper and sometimes even with that open wheel guy, Greg Moore, but his old fishing and hunting buddy was here now and Bonnett was content.
Dale mentioned to Neil that he may have left his earthly bonds too soon. He sure would have like to have seen his son Dale Jr. win a race at Daytona, the track where he had so much success.
Dale Jr., had won two Winston Cup races and one "Winston" All-Star race, and they celebrated mightily, but something, he knew would be missing from Dale Jr.'s life without a win at Daytona.
He also had learned in the short five months that he had powers and enjoyed using them by helping Michael Waltrip win his first Winston Cup race and the Daytona 500 at that. Then there was the race at Atlanta when his old friend Richard Childress asked for his help and Dale jumped into the car and drove it home for Kevin Harvick. That was a tough one. Harder that he expected and barely nipped Jeff Gordon at the line for the win.
Then there was Steve Park's win at Rockingham, well, you get the picture.
But Dale wanted to insure a win for Dale Jr. and to make sure that it happened, he enlisted Neil Bonnett's help. Bonnett wasn't sure that even with the two of them working on it, that they would be able to pull it off. Bonnett suggested they talk to God and see if he would be willing to help.
Being a longtime racefan and especially a Dale Earnhardt fan, God agreed to help with the project and God, Bonnett and Earnhardt set out with a plan to make sure it happened.
God set in motion a set of rules for Dale Jr.'s crew chief to follow and made him clever enough to build a car that would handle just right at Daytona and smart eonigh to call some great pit stratagies. Next he made his engine builder wise enough to build an engine that would out-power the rest of the cars.
Bonnett suggested that in addition to the clever crew chief and wise engine builder, that God maybe put it into the minds of his competitors that everything would be OK in the world if Dale Earnhardt Jr. were allowed to win this race and so he did.
God, Bonnett and Earnhardt could see a plan coming together the way it should and for insurance, decided that no cars should get near Dale Jr. during the race and parted the seas for him, so to speak.
The plan worked perfectly and eleven years to the day that the old man won his first Pepsi 400 at Daytona, Dale Earnhardt Jr. crossed the finish line first with Michael Waltrip, Dale Earnhardt Sr., Neil Bonnett and the hand of God pushing the Chevrolet Monte Carlo to victory.
That's how the Pepsi 400 was fixed. All is well again.
You can visit Ron's site at: InsiderRacing
Questions or comments about this page or my site - Click the mail box to email me.