2006 Press Pass Premium
Oh Press Pass pulled a nasty trick with the 2006 Press Pass Premium release! They made #30 through #36 the Class of 2006 Rookies as short prints. And I really mean short - they were inserted ONE PER BOX! So that means it would take a minimum of six boxes to make a single base set. Needless to say I wasn't real happy.
SO - the 52 card "Base" set is rather expensive!!
Below you will find checklists and pictures of some of the cards.
The cards highlighted in yellow are the Rookie Short Prints #30 through #36. The are included in the set listed as 52 Card Base set. They are not included in the set listed as 45 Card Base Set W/O Rookies!
2006 Press Pass Premium - Base
Low $
High $
1
Greg Biffle
$0.50
$1.25
2
Dave Blaney
$0.30
$0.75
3
Jeff Burton
$0.50
$1.25
4
Kurt Busch
$0.75
$2.00
5
Kyle Busch
$0.75
$2.00
6
Dale Earnhardt Jr.
$2.00
$5.00
7
Carl Edwards
$1.50
$4.00
8
Jeff Gordon
$2.00
$5.00
9
Jeff Green
$0.30
$0.75
10
Kevin Harvick
$1.25
$3.00
11
Dale Jarrett
$1.00
$2.50
12
Jimmie Johnson
$1.50
$4.00
13
Kasey Kahne
$2.00
$5.00
14
Matt Kenseth
$1.50
$4.00
15
Bobby Labonte
$1.00
$2.50
16
Terry Labonte
$0.75
$2.00
17
Sterling Marlin
$0.75
$2.00
18
Mark Martin
$1.25
$3.00
19
Jeremy Mayfield
$0.30
$0.75
20
Casey Mears
$0.50
$1.25
21
Joe Nemechek
$0.30
$0.75
22
Ryan Newman
$1.50
$4.00
23
Kyle Petty
$0.50
$1.25
24
Tony Raines
$0.30
$0.75
25
Scott Riggs
$0.50
$1.25
26
Elliott Sadler
$0.50
$1.25
27
Ken Schrader
$0.30
$0.75
28
Tony Stewart
$1.25
$3.00
29
Brian Vickers
$1.00
$2.50
30
Clint Bowyer CRC
$10.00
$25.00
31
Denny Hamlin CRC
$8.00
$20.00
32
Brent Sherman RC
$5.00
$12.00
33
Reed Sorenson CRC
$10.00
$25.00
34
David Stremme CRC
$8.00
$20.00
35
Martin Truex Jr. CRC
$10.00
$25.00
36
J.J. Yeley CRC
$6.00
$15.00
37
Jeff Gordon's Car M
$0.75
$2.00
38
Jeff Burton's Car M
$0.20
$0.50
39
Matt Kenseth's Car M
$0.60
$1.50
40
Greg Biffle's Car M
$0.20
$0.50
41
Carl Edwards' Car M
$0.60
$1.50
42
Dale Jarrett's Car M
$0.40
$1.00
43
Mark Martin's Car M
$0.50
$1.25
44
Kevin Harvick's Car M
$0.50
$1.25
45
Jimmie Johnson's Car M
$0.60
$1.50
46
Mark Martin NS
$1.25
$3.00
47
Tony Stewart NS
$1.25
$3.00
48
Jeff Gordon NS
$2.00
$5.00
49
Elliott Sadler NS
$0.50
$1.25
50
Denny Hamlin NS
$1.50
$4.00
51
Jeff Burton NS
$0.50
$1.25
52
M.Truex/C.Bowyer/R.Sorenson CL
$2.00
$5.00
Champs & Challengers
Low $
High $
53
Bobby Labonte CC
$2.00
$5.00
54
Dale Jarrett CC
$2.00
$5.00
55
Tony Stewart CC
$2.50
$6.00
56
Kurt Busch CC
$1.50
$4.00
57
Jeff Gordon CC
$4.00
$10.00
58
Matt Kenseth CC
$3.00
$8.00
59
Terry Labonte CC
$1.50
$4.00
60
Carl Edwards C
$3.00
$8.00
61
Jimmie Johnson C
$3.00
$8.00
62
Kasey Kahne C
$4.00
$10.00
63
Dale Earnhardt Jr. C
$4.00
$10.00
64
Greg Biffle C
$1.00
$2.50
65
Mark Martin C
$2.50
$6.00
66
Jeff Burton C
$1.00
$2.50
67
Kyle Busch C
$1.50
$4.00
68
Kevin Harvick C
$2.50
$6.00
69
Casey Mears C
$1.00
$2.50
70
Sterling Marlin C
$1.50
$4.00
71
Elliott Sadler C
$1.00
$2.50
Premium Choice
Low $
High $
72
Mark Martin PC
$4.00
$10.00
73
Jimmie Johnson PC
$5.00
$12.00
74
Martin Truex Jr. PC
$5.00
$12.00
75
Tony Stewart PC
$4.00
$10.00
76
Jeff Gordon PC
$6.00
$15.00
77
Dale Jarrett PC
$3.00
$8.00
78
Ryan Newman PC
$5.00
$12.00
79
Carl Edwards PC
$5.00
$12.00
80
Dale Earnhardt Jr. PC
$6.00
$15.00
81
Matt Kenseth PC
$5.00
$12.00
82
Kasey Kahne PC
$6.00
$15.00
83
Jeff Burton PC
$1.50
$4.00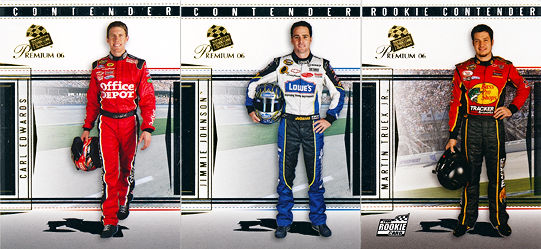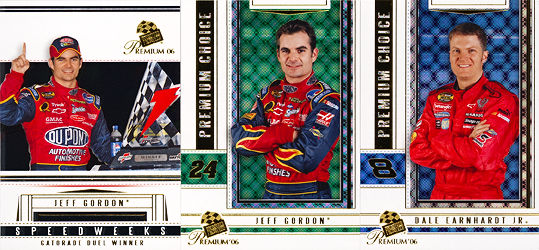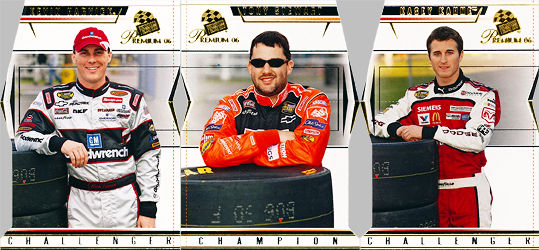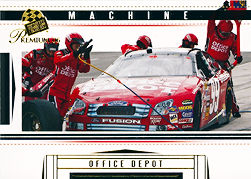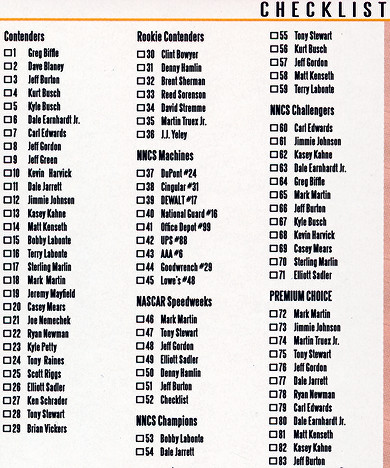 2006 Press Pass Premium Asphalt Jungle
Low $
High $
AJ1
Dale Earnhardt Jr.
$2.50
$6.00
AJ2
Mark Martin
$1.50
$4.00
AJ3
Jeff Gordon
$2.50
$6.00
AJ4
Tony Stewart
$1.50
$4.00
AJ5
Jimmie Johnson
$2.00
$5.00
AJ6
Dale Jarrett
$1.25
$3.00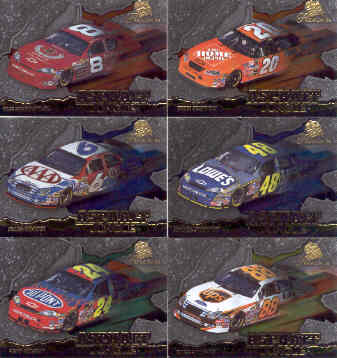 2006 Press Pass Premium In the Zone
Low $
High $
IZ1
Dale Earnhardt Jr.
$4.00
$10.00
IZ2
Carl Edwards
$3.00
$8.00
IZ3
Dale Jarrett
$2.00
$5.00
IZ4
Tony Stewart
$2.50
$6.00
IZ5
Matt Kenseth
$3.00
$8.00
IZ6
Kurt Busch
$1.50
$4.00
IZ7
Jimmie Johnson
$3.00
$8.00
IZ8
Kevin Harvick
$2.50
$6.00
IZ9
Martin Truex Jr.
$3.00
$8.00
IZ10
Jeff Gordon
$4.00
$10.00
IZ11
Mark Martin
$2.50
$6.00
IZ12
Bobby Labonte
$2.00
$5.00